Reliance to Launch Low-Cost Fashion Marketplace Ajio Street
Reliance Industries, India's largest conglomerate, has launched a new fashion marketplace called Ajio Street. The platform is aimed at smaller cities and towns.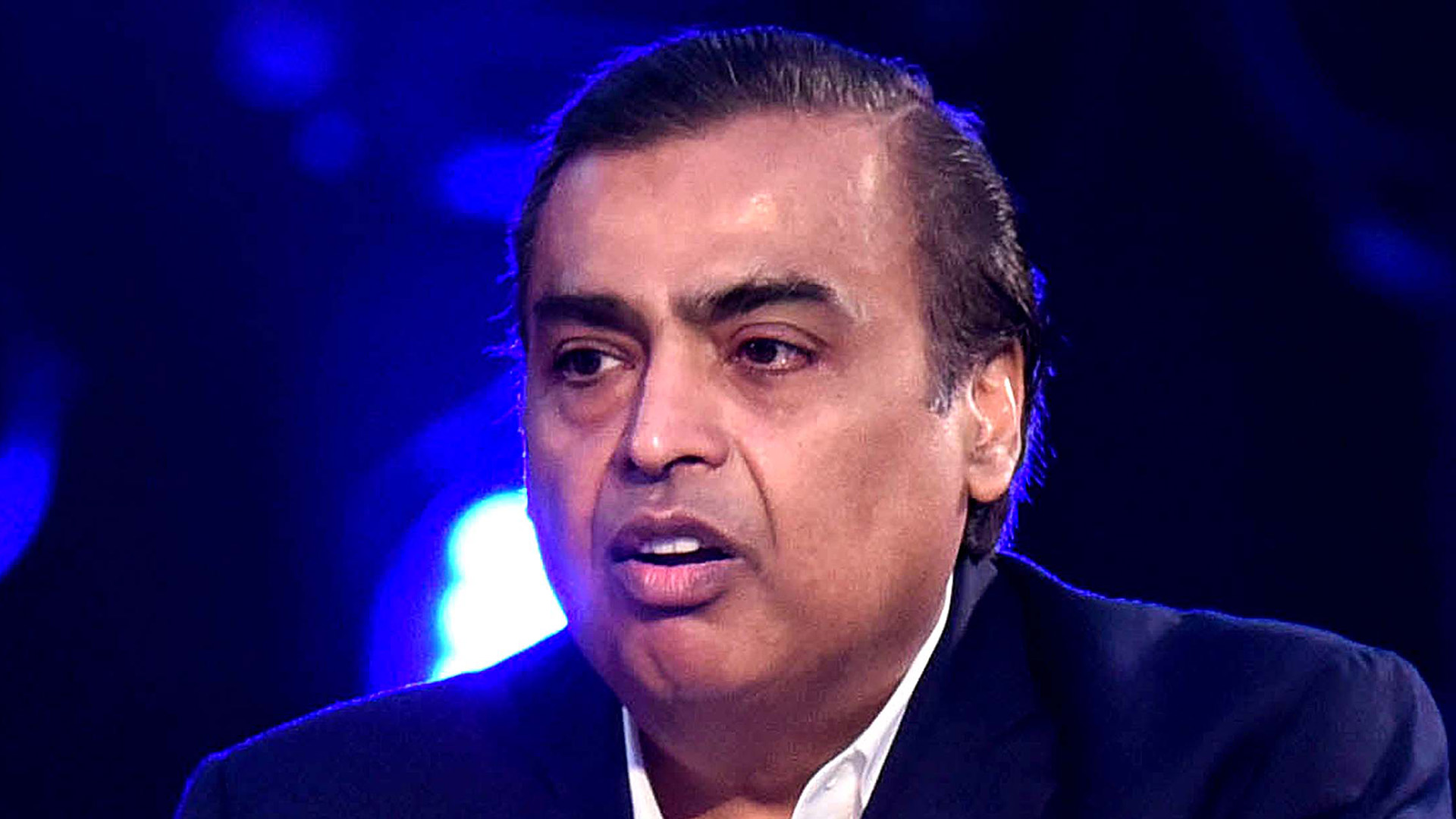 The biggest conglomerate in India, Reliance Industries, has introduced Ajio Street, a brand-new marketplace for clothing. The platform is designed for consumers looking for affordable clothing in smaller Indian cities and towns.
Ajio Street is anticipated to face off against Meesho, a well-known online retailer of affordable apparel and accessories. Meesho's user base has increased to over 100 million as a result of its recent, rapid growth.
One of the biggest and fastest-growing fashion markets worldwide is in India. But the market is also very sensitive to price. The best prices are always sought after by Indian shoppers, and they are not averse to switching brands when they discover lower prices elsewhere.
This is why the Indian fashion market places such a high value on affordability. Low-cost brands have a greater chance of success. Ajio Street is relying on this fact and launching its new platform in an effort to draw a sizable number of customers looking for affordable fashion.
"Reliance Ajio Targets Indian Fashion E-Commerce with Zero-Commission Model"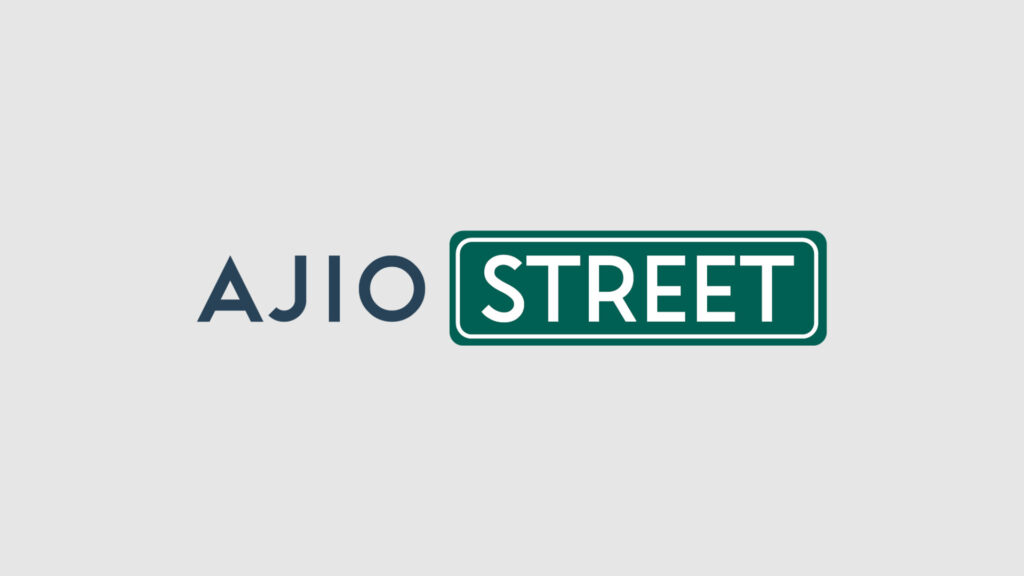 Reliance has a history of using strategies that prioritise affordability in order to succeed. The company has employed this strategy in the past with great success in the retail and telecommunications industries.
Reliance launched Jio, a low-cost wireless service that provided free voice calls and discounted data rates, in the telecommunications industry. Jio quickly rose to prominence as one of India's most widely used wireless services, and it now has more than 430 million subscribers.
Reliance has established a sizable network of supermarkets and hypermarkets throughout India in the retail sector. The company's retail locations draw a lot of customers with their wide selection of goods at affordable prices.
Ajio Street's Competition
Other significant players in the Indian fashion market, such as Flipkart and Amazon, will give Ajio Street fierce competition. Reliance is optimistic that its new platform will be a success, though. The company is aiming for a sizable and expanding market and has a proven track record of success in the Indian market.
An important development for the Indian fashion industry is Ajio Street. The platform could reshape the market by drawing a sizable number of consumers interested in affordable fashion.
Milan Fashion Week: The Rise of Quiet Luxury
The trend for "quiet luxury" is in full swing at Milan Fashion Week, with designers eschewing logos and overt branding in favor of understated sophistication.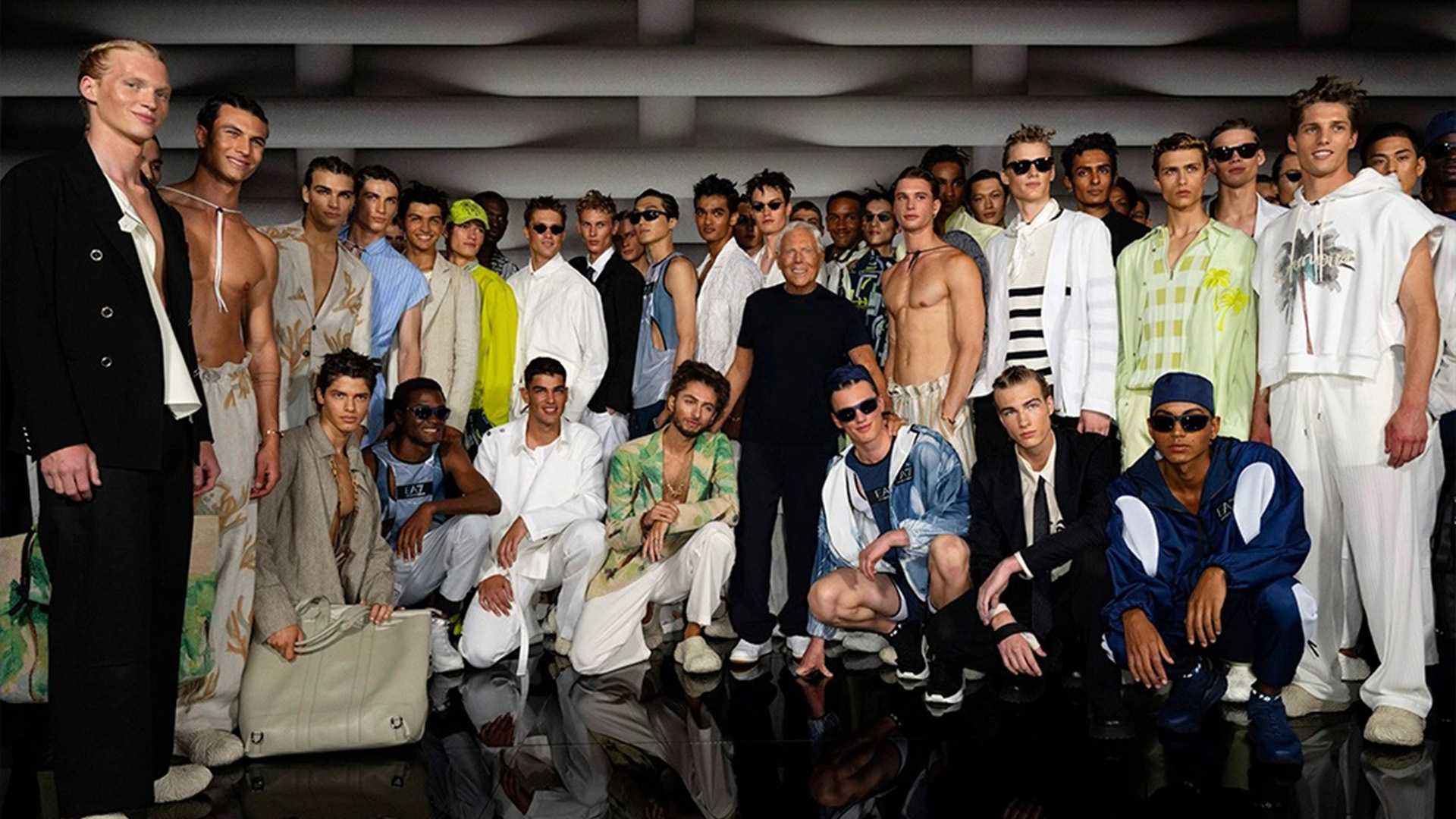 Pierpaolo Piccioli debuted a collection of relaxed separates at Valentino on Friday, reflecting the modern concept of masculinity. On Saturday afternoon, Dolce & Gabbana chose tailored pieces and well-crafted garments over distressed denim and flashy suits for the second season in a row.
The subdued atmosphere extended to the front rows of the four-day showcase, which concluded on Monday afternoon, where celebrity attendance was noticeably low, emphasising the overall understated ambiance.
Miuccia Prada and Raf Simons used the humble white shirt as a springboard for a collection that "reconsiders simple things" at Prada.
The collection featured streamlined silhouettes, supple cuts, and fluid fabrics in black, white, beige, and grey, among other colors. Ties were absent, and the overall look was one of understated elegance.
Dolce & Gabbana also debuted a collection that focused on tailoring and avoided logos. The emphasis was on well-cut garments that accentuated the male form, and the overall effect was one of understated luxury.
"Menswear Designers Ditch Logos for Understated Sophistication"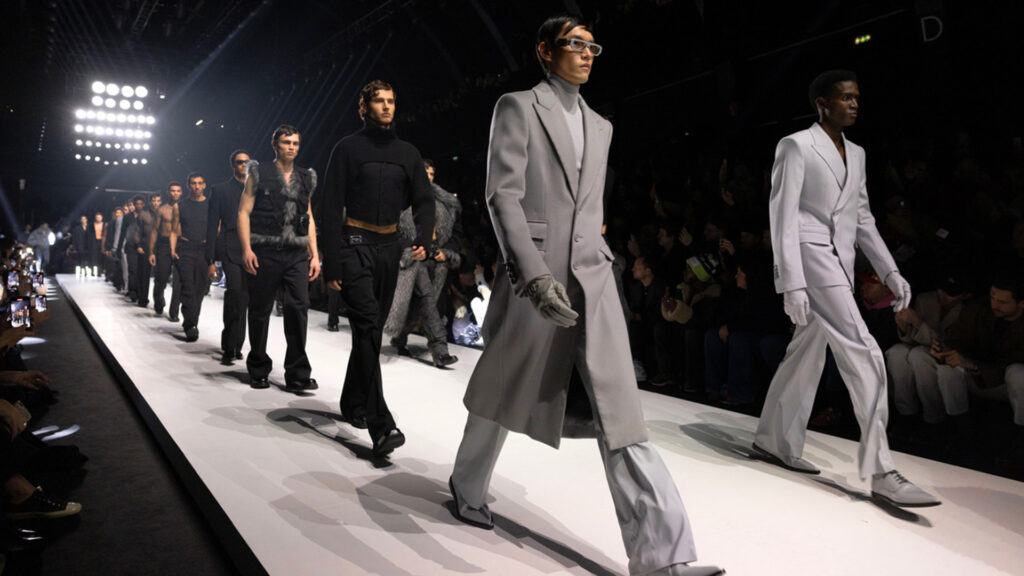 Brunello Cucinelli, Zegna, Tod's, Giorgio Armani, and Brioni were among the brands that followed the quiet luxury trend. All of these designers showcased collections that were distinguished by their understated elegance and high-quality materials.
The growing popularity of the show Succession, which features characters who dress in understated but expensive clothing, is likely to be one of the causes of the quiet luxury trend.
Another factor is the recent consolidation of wealth, which has increased demand for luxury goods that are not as easily identifiable as those from more mainstream brands.
Whatever the reason, the quiet luxury trend is clearly in full swing, and it is likely to continue in the coming years.
Latest Menswear Trends
Aside from the trend for quiet luxury, there were a few other trends on display at Milan Fashion Week. Tailoring's comeback, the rise of gorpcore, and the continued popularity of gender-fluid dressing were among them.
Overall, Milan Fashion Week showcased the latest menswear trends, and it is clear that there is a growing demand for understated sophistication and high-quality materials.
Nandita Das: Cannes is to Celebrate Films, Not Fashion
The Cannes Film Festival has always provided a stage for filmmakers, actors, and artists to share their work and express their love of storytelling.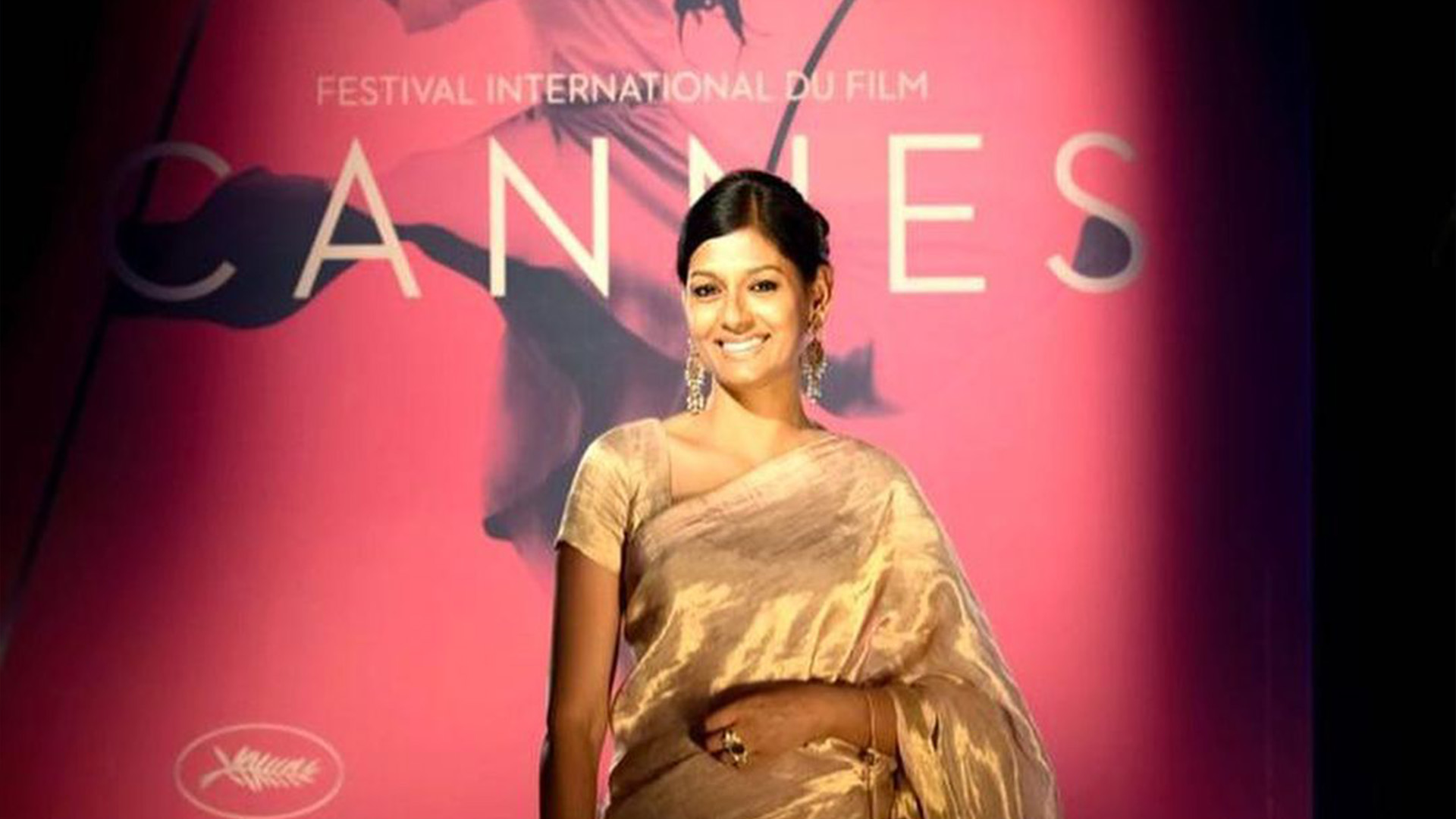 Since 1946, the Cannes Film Festival has symbolised film industry excellence on the French Riviera. It showcases independent and international films.
The festival has promoted great films and discovered new talent. The Palme d'Or is cinema's highest honour.
The Cannes red carpet has become as famous for its fashion as for its films. Celebrities, models, and actresses often get more attention for their outfits than the festival itself.The media emphasises fashion over film quality. Some critics say the festival should focus on filmmaking. 
Nandita Das, known for her thought-provoking roles and social activism, was disappointed to miss Cannes this year. She wrote on Instagram that the festival should focus on films, not fashion. Cannes, according to Nandita Das, is about uniting diverse cinematic voices and narratives across borders and cultures.
"Nandita Das reminds everyone that the Cannes Film Festival is a celebration of cinema, not fashion"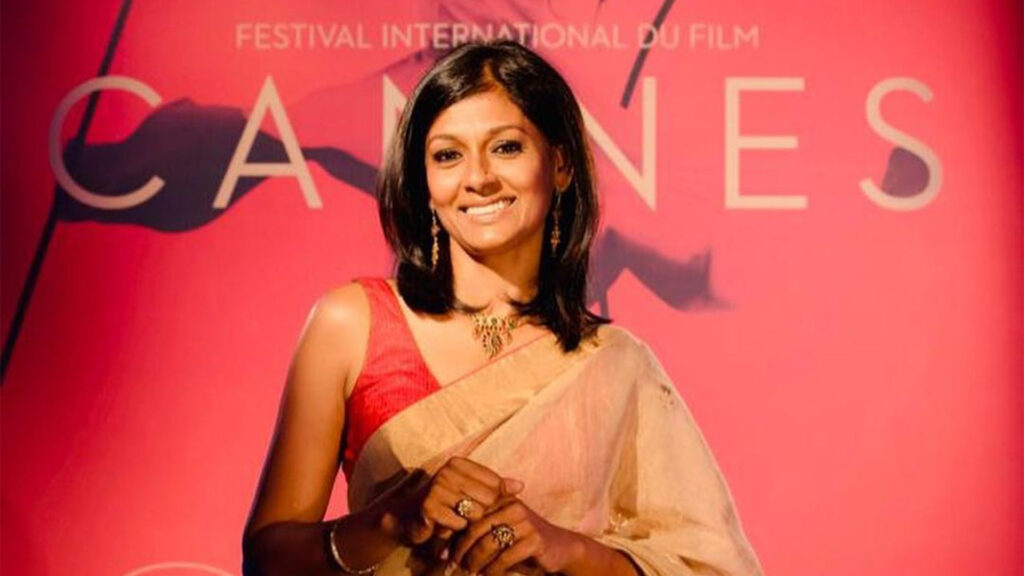 Nandita Das posted a collection of photos from previous Cannes appearances, highlighting her preference for donning saris, the traditional Indian attire. She views the sari as an expression of her Indian heritage and of simplicity and elegance.
In order to redirect the conversation back to movies rather than fashion, Nandita Das wore saris on the red carpet to emphasise the cultural diversity and depth of Indian cinema.
Filmmaker Vivek Agnihotri also criticised Cannes' fashion obsession. He tweeted sarcastically that the festival is about films. Agnihotri's comment underscores the worry that the red carpet's glitz and glamour may overshadow the event's main goal of honouring great filmmaking.
Actress Nandita Das's Instagram post and filmmaker Vivek Agnihotri's tweet remind Cannes to prioritise films over fashion. Refocusing on the amazing films, diverse stories, and artistic achievements that make the festival a true celebration of cinema is essential.
Mrunal Thakur Stuns at the 2023 Cannes Film Festival
Mrunal wore a custom Falguni Shane Peacock ivory cut-out gown to the "Black Flies" premiere. The gown was bold and elegant, enhancing Thakur's beauty.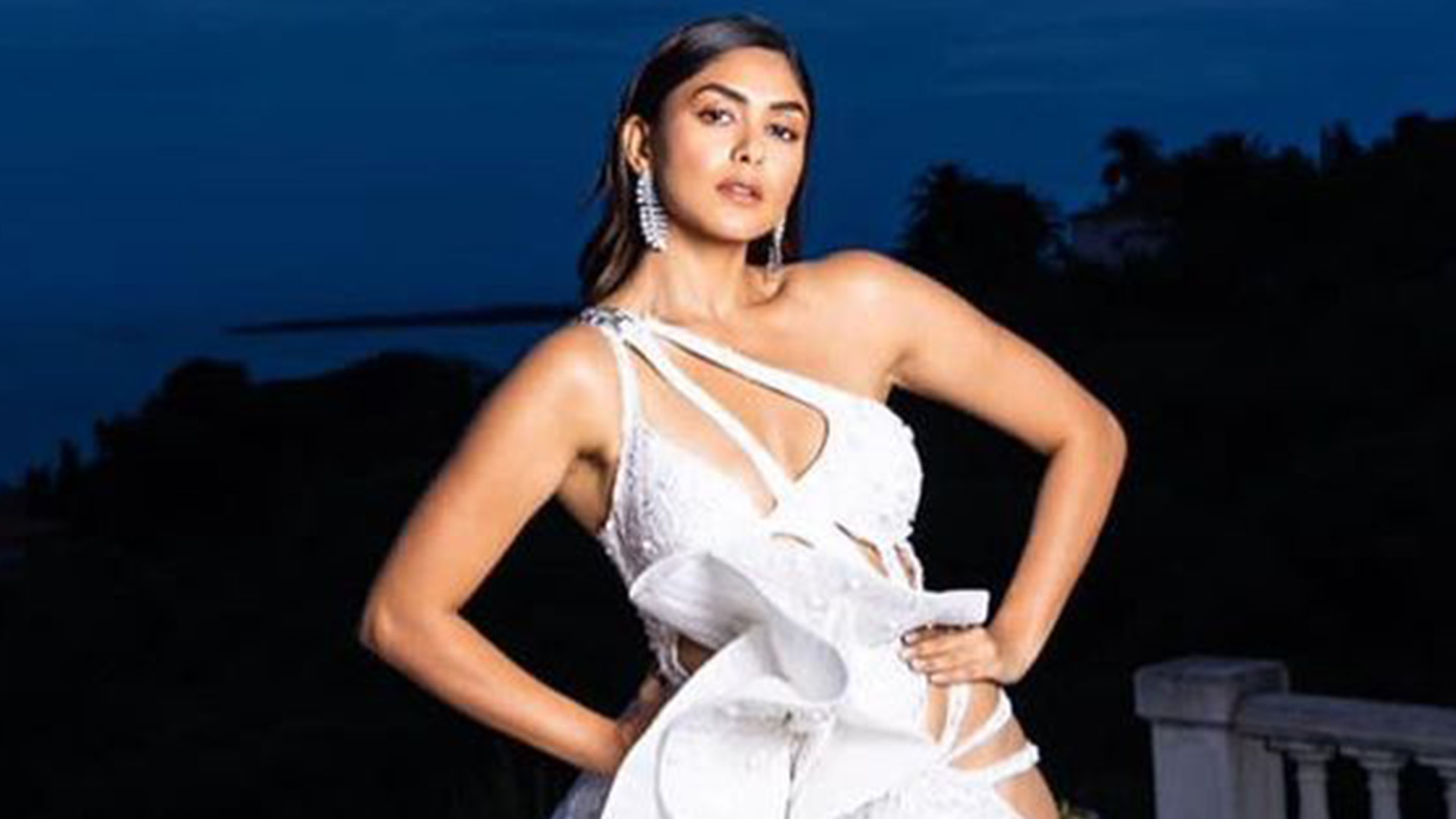 Mrunal Thakur, the Indian actress known for her roles in films like "Jersey" and "Love Sonia," made her debut at the Cannes Film Festival on Thursday, May 19. Thakur arrived at the premiere of the film "Black Flies" in a custom-made Falguni Shane Peacock ivory-colored cut-out gown. The gown was daring and elegant, and it perfectly complemented Thakur's beauty.
The one-shoulder-exposing neckline added sensuality, while strategically placed cut-outs on the torso and waist conveyed confidence and style.
The ivory gown's ruffled front and shimmering sequins and beads elevated the look. The ensemble's star was Thakur's sheer feather-adorned train, which gave her a dreamlike appearance. The train floated gracefully as she climbed the Cannes stairs, adding to her grandeur.
Mrunal wore minimal makeup to highlight her risqué dress's intricate details. To complete her look, she wore delicate earrings, a statement ring, and heels. Her side-parted open hair framed her face elegantly.
Her glamorous look was balanced by darkened brows, rouged cheekbones, a soft pink nude lip shade, glowing highlighter, mascara-laden lashes, and subtle eyeshadow.
"Mrunal Thakur Shines Bright at Cannes Film Festival in Jaw-Dropping Cut-Out Dress"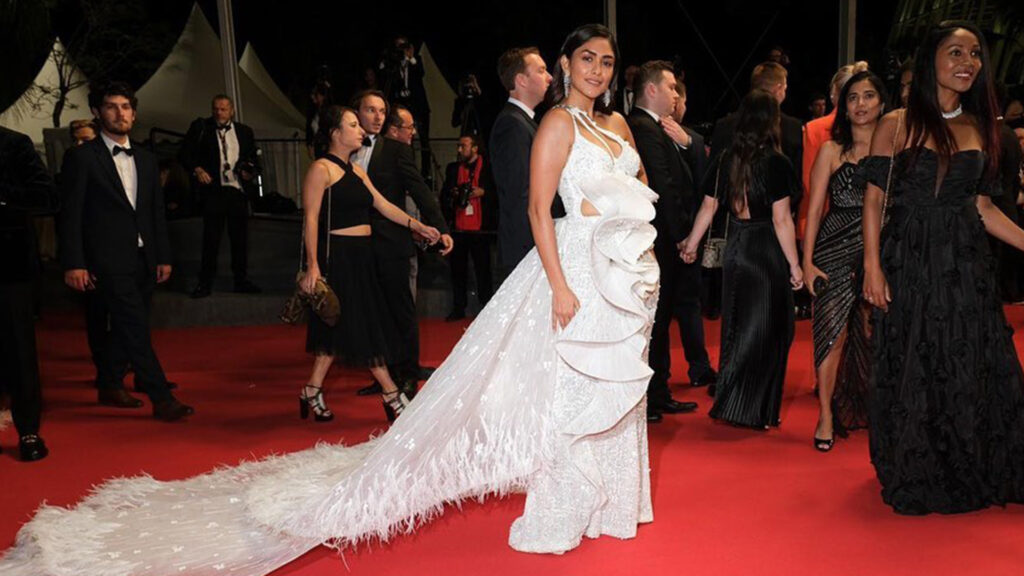 Mrunal Thakur's Cannes Film Festival debut
Fans and fashionistas worldwide lauded Thakur's Cannes Film Festival debut. As her photos flooded timelines, fan pages couldn't contain their excitement, praising the actor for her stunning appearance. Thakur became a global entertainment star after this red carpet moment.
The Cannes Film Festival is known for timeless elegance, avant-garde fashion, and unforgettable red carpet moments. Thakur's debut in her daring cut-out gown made the festival's history.
Her confident and bold outfit shows how fashion evolves and allows artistic expression. As the festival continues, anticipation builds for the next stunning red carpet looks, cementing Cannes' reputation as a playground for the world's most talented and stylish.
Mrunal was not the only Bollywood actor at the Cannes Film Festival. Sara Ali Khan, another Bollywood star, made her Cannes debut this year, adding to the festival's glamour.