Virat Kohli's Ton Helps RCB Beat SRH by 8 Wickets
Royal Challengers Bangalore (RCB) defeated Sunrisers Hyderabad (SRH) by eight wickets, thanks to Virat Kohli's century off 63 deliveries.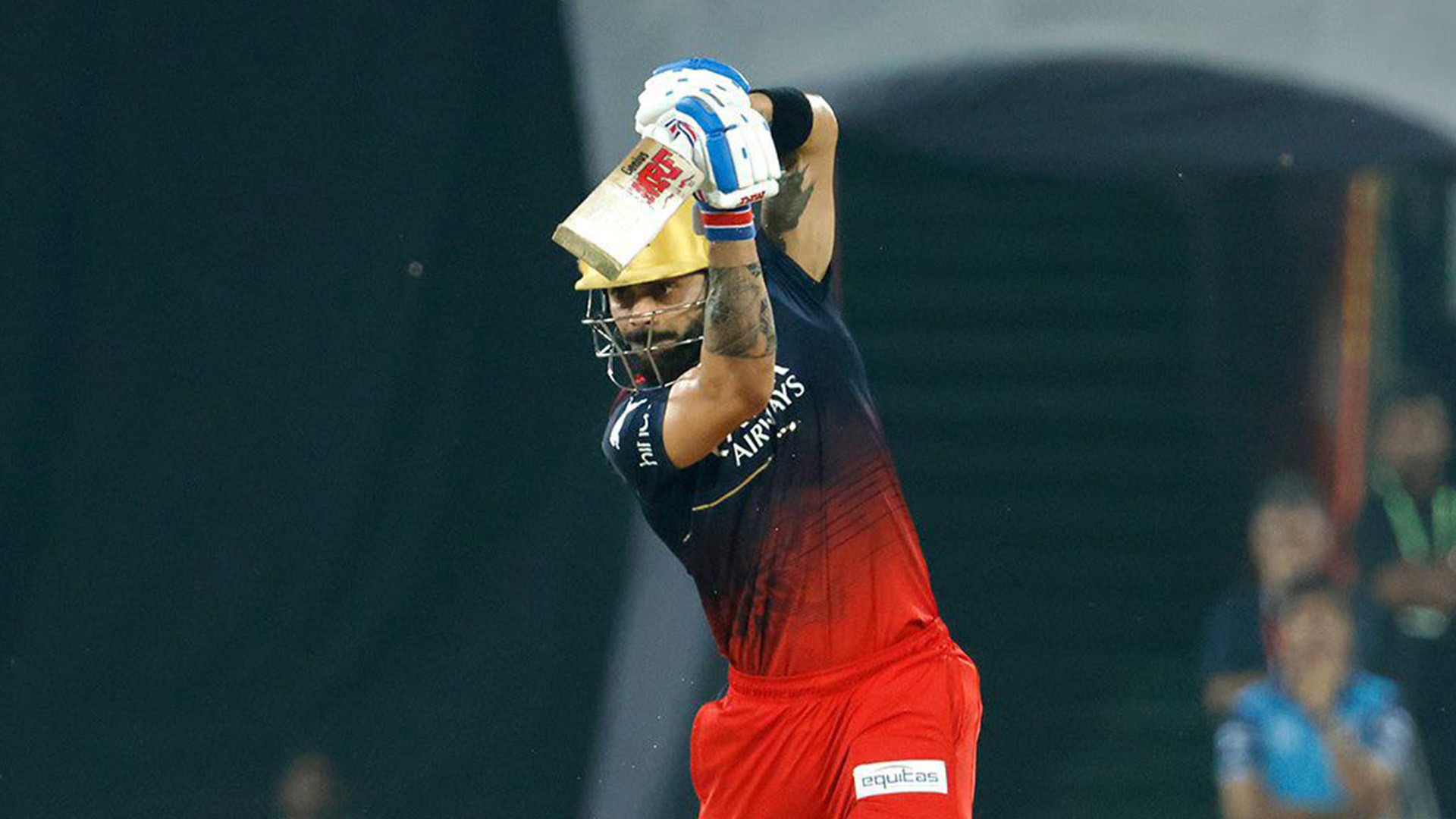 Kohli, who was named the game's most valuable player, stated that it was a special century given the tournament and the score they were chasing on a difficult pitch. Kohli, who shared an opening stand of 172 runs with Faf du Plessis, stated that he did not anticipate such a strong start.
"Taking into account our position in the standings and the magnitude of the game, it was quite remarkable. I thought Hyderabad's score was quite impressive. The ball was also sticky between innings.
We desired a solid start but did not anticipate being 172 without loss. However, that is how well Faf and I have performed this season. "He is on a completely different level," Kohli said to STAR Sports after the game.
Virat Kohli has scored 538 runs thus far in the 2023 IPL, including six half-centuries and a century that will be remembered for numerous reasons. After beginning the season with a bang against Mumbai Indians, questions were raised about Kohli's strike rate and motivation.
On Thursday, he answered all of these questions with a brilliant innings and was in attack mode from the first over, when he hit Bhuvneshwar Kumar for two consecutive fours off the first two balls.
"Kohli's century a reminder of why he's one of the greatest batsmen of all time"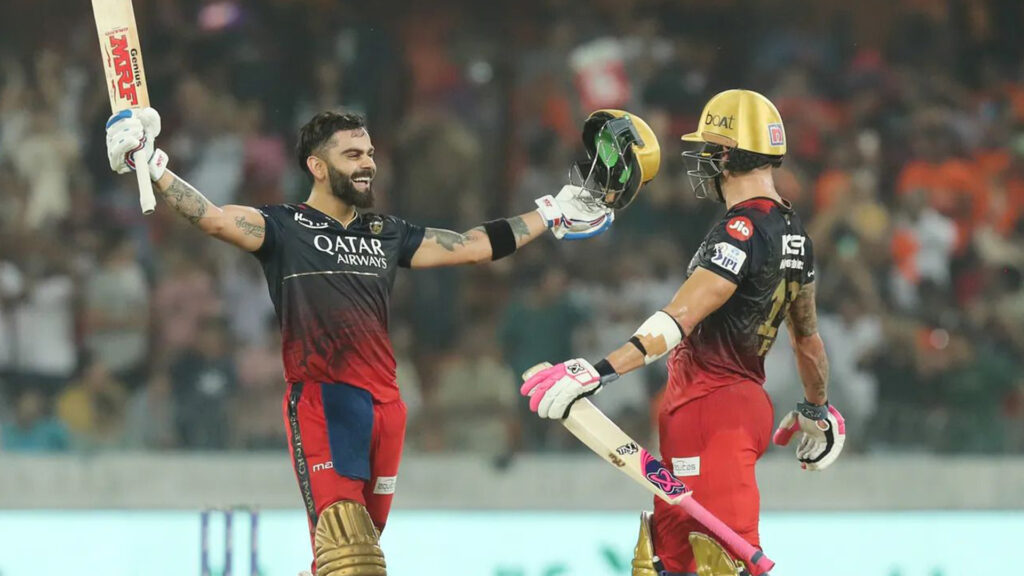 Kohli's Hundred Leads RCB's Charge to IPL Playoffs
Kohli is also the leading run-scorer in IPL history with 7162 runs and is one of only three batsmen to have scored over 50 half-centuries. In a record-setting 2016 season, Kohli scored 973 runs, including four centuries and seven fifties.
In 2018, he scored 530 runs in 14 matches, and in 2019, he scored his fifth IPL century. However, Kohli's IPL form declined over the next three years, culminating in one of his worst seasons in 2022 when he scored 341 runs in 16 matches, including just two fifties.
Kohli's return to form is a huge boost for the RCB, who are currently in fourth place in the standings and seeking to qualify for the playoffs for the fourth consecutive season. With Kohli in excellent form, RCB will be difficult to defeat in the knockout stages.
Ashwin Breaks Silence on WTC Final, Reveals Emotional Toll
Ravichandran Ashwin, who was India's leading wicket-taker in the recently concluded WTC cycle, has broken his silence on his omission from the playing XI.
Ravichandran Ashwin, India's leading wicket-taker in the recent WTC cycle, has spoken out about his omission from the playing XI for the WTC final against Australia.
Ashwin told ESPNcricinfo that he was "devastated" to be cut from the team and that the decision had a "huge" impact on him and his family.
"I was devastated," said Ashwin. "I had worked extremely hard for the past two years, and being left out of the team was devastating." It was difficult to deal with, but I needed to move on."
Ashwin also discussed the trauma he and his family experienced following the WTC final. His father, who has heart problems, was "stressed" by the decision, and he had to call Ashwin every day to check on him.
"Ashwin's Interview Offers Candid Look at Impact of WTC Final Omission"
"The toll it takes on my family is immense," Ashwin explained. "My father has heart problems, and he was very concerned about the decision." He calls me every day to see how I'm doing, and it's difficult to see him like that."
Ashwin stated that he tweeted following the WTC final because he needed "closure" to move on. He stated that he wanted to express his disappointment while also recognising the efforts of his teammates and the coaching staff.
"I posted a tweet because I needed closure," Ashwin explained. "There was no point in staying. I wanted to express my disappointment while also thanking my teammates and the coaching staff for their efforts. They had put in a lot of effort, and I didn't want to take anything away from them."
Focused on the future
Ashwin stated that he is now focused on the future and is determined to assist India in winning the next WTC cycle. He stated that he is "hungry" to play Test cricket and believes that he can still make a significant impact at the highest level.
"I'm hungry to play Test cricket," Ashwin stated. "I know I can still make a big impact at the highest level, and I'm determined to help India win the next WTC cycle."
Ashwin's interview is a candid look at how his absence from the WTC final affected him and his family. It also serves as a reminder of the high level of competition in Indian cricket, as well as the pressure on players to perform at the highest level.
GT Aim to Defend Title Against CSK in IPL 2023 Final
The Indian Premier League (IPL) 2023 final will be a battle of the titans as Chennai Super Kings (CSK) take on Gujarat Titans (GT).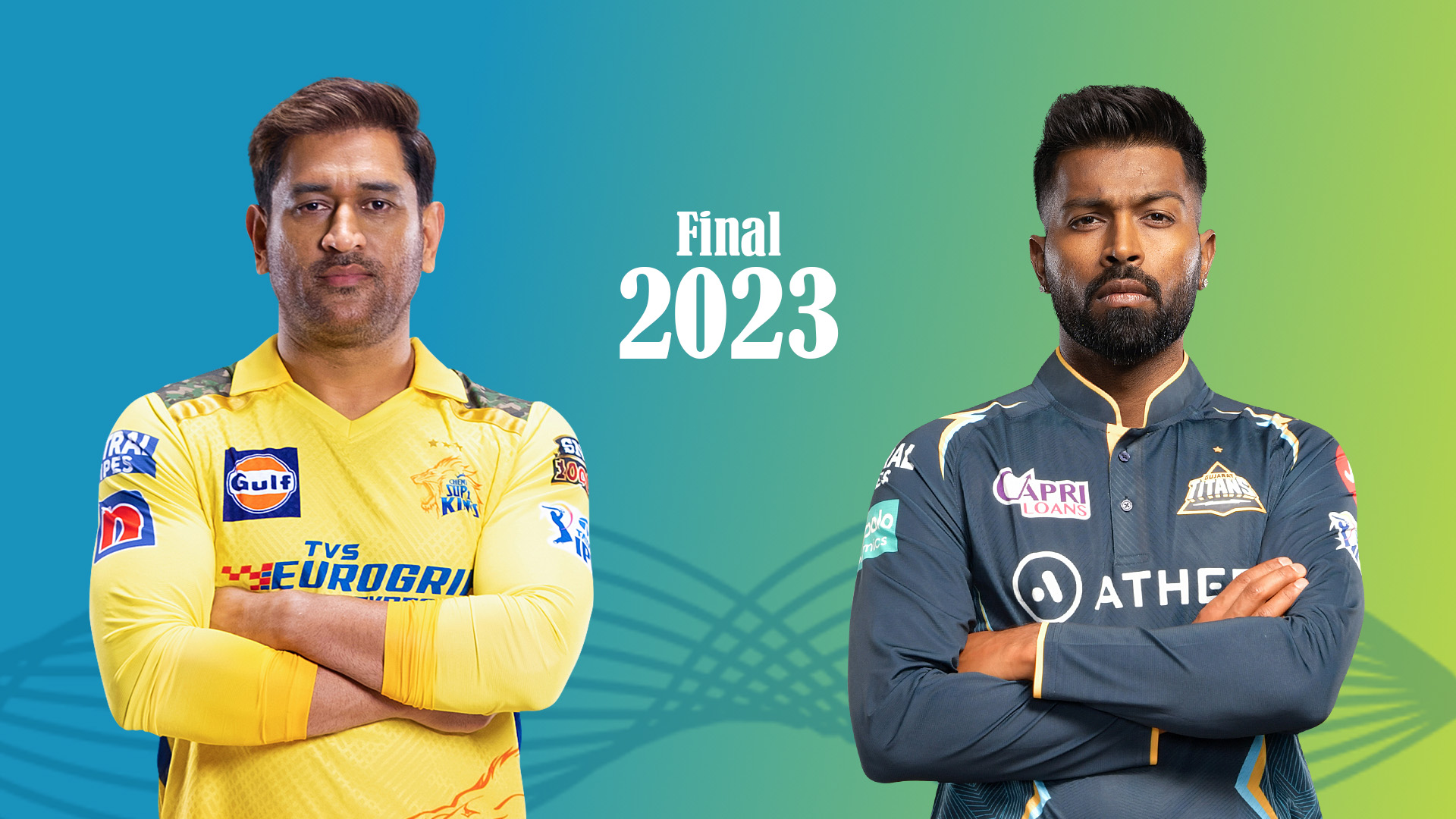 Sunday's final of the Indian Premier League (IPL) 2023 will be a titanic clash between Chennai Super Kings (CSK) and Gujarat Titans (GT) at the Narendra Modi Stadium in Ahmedabad.
CSK and GT are two of the most successful teams in the history of the Indian Premier League, with CSK having won four titles and GT having won the title last season. Both teams are led by seasoned captains in MS Dhoni and Hardik Pandya, and both have formidable rosters.
CSK have been in fine form throughout the tournament, advancing to the final after defeating GT in Qualifier 1. They have a well-rounded team with a formidable batting lineup and a formidable bowling attack. Dhoni will hope that his team will play to their full potential and win their fifth championship.
GT is the reigning champion and will attempt to retain their title. They have a young, exciting team with some of the world's best players. Pandya will hope that his team can play freely and win their second consecutive championship.
The championship is anticipated to be a close contest, and it will be intriguing to see who emerges victorious. CSK have experience, whereas GT have youth. It should be an exciting contest.
"Defending Champions Gujarat Titans Take on Chennai Super Kings in IPL 2023 Final"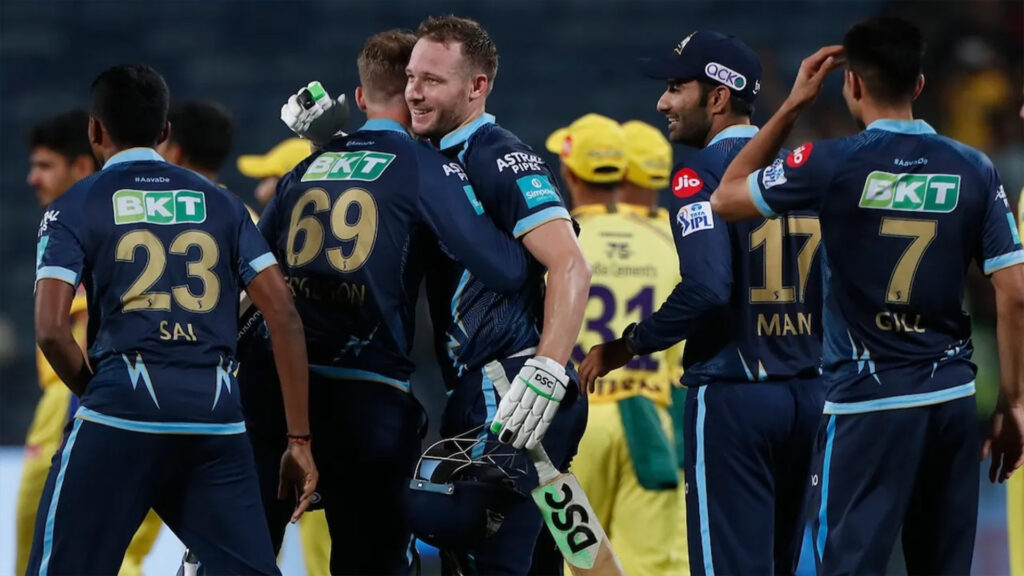 Here are some of the key players to watch out for in the final
CSK:
MS Dhoni: The veteran wicketkeeper-batsman is the heart and soul of CSK. He is a master tactician and a brilliant finisher.
Ruturaj Gaikwad: The young opener has been in good form in the tournament, scoring 625 runs in 15 matches.
Ravindra Jadeja: The all-rounder is a key member of CSK's bowling attack and can also contribute with the bat.
GT:
Shubman Gill: The opener has been in excellent form in the tournament, scoring 851 runs in 16 matches.
Hardik Pandya: The all-rounder is the captain of GT and is a key member of their batting and bowling attack.
Rashid Khan: The leg-spinner is one of the best bowlers in the world and is a key member of GT's bowling attack.
The championship game should be a nail-biter, so we can't wait to see who triumphs. CSK has the veterans, but GT has the emerging players. The game promises to be exciting.
MI thrashes LSG by 81 runs to reach Qualifier 2
Mumbai Indians cruised into Qualifier 2 of the TATA IPL 2023 with an emphatic 81-run victory over Lucknow Super Giants in the Eliminator.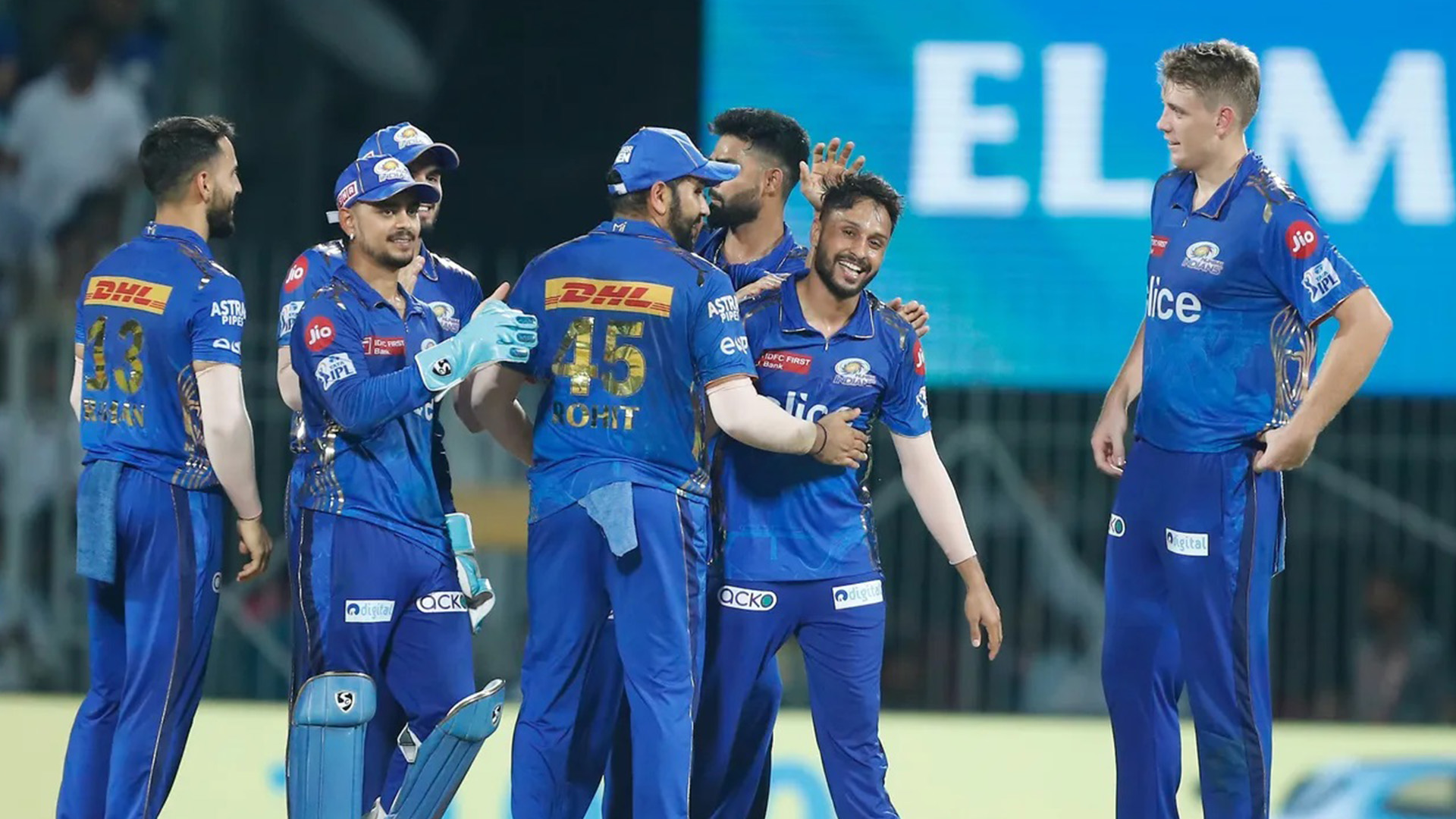 With a decisive 81-run victory over Lucknow Super Giants in the Eliminator on Wednesday at the MA Chidambaram Stadium in Chennai, Mumbai Indians easily advanced into Qualifier 2 of the TATA IPL 2023.
Mumbai Indians bowled out Lucknow Super Giants for a pitiful 101 in 16.3 overs thanks in large part to a sensational five-wicket haul from Akash Madhwal. Madhwal, who was taking part in just his second IPL game, had a 5-for-5 return from 3.5 overs.
After being given the opportunity to bat, the Mumbai Indians scored a respectable 182 for 8 in their 20 overs. In addition to Suryakumar Yadav's (33 off 20) and Tilak Varma's (26 off 22) significant contributions, Cameron Green led the team with 41 runs off only 23 balls.
The Lucknow Super Giants, who were chasing 183, never got going and were dismissed after 17 overs. Madhwal was the standout bowler, but the Mumbai Indians attack as a whole did a good job of supporting him.
Mumbai Indians will play Gujarat Titans in Qualifier 2 on Friday thanks to their victory. The winner of that game will compete against Chennai Super Kings in the Sunday championship game.
"Mumbai Indians book place in Qualifier 2 with 81-run win over Lucknow Super Giants"
Madhwal's Maiden Five-Wicket Haul
The game's high point was the first five-wicket haul by Akash Madhwal. The young pacer was able to get good movement off the pitch while bowling with excellent control and accuracy. Nicholas Pooran, Prerak Mankad, Kyle Mayers, Marcus Stoinis, and Ayush Badoni were all fired.
The batting display by the Mumbai Indians was also outstanding. The team got off to a strong start thanks to Cameron Green and Suryakumar Yadav, and Tilak Varma contributed significantly later in the order. In order to post a respectable total, the Mumbai Indians batsmen were able to rotate the strike well and hit some big shots.
The main factor contributing to the Lucknow Super Giants' loss was their batting collapse. The team continuously lost wickets, and they were never able to start an innings. The batsmen for the Lucknow Super Giants were unable to rotate the strike or hit big shots.
Gujarat Titans and Mumbai Indians will now square off in Qualifier 2 on Friday. The winner of that game will compete against Chennai Super Kings in the Sunday championship game.