Google Pixel 7a: A Powerful Phone with A Great Camera
The Pixel 7a is powered by the Google Tensor G2 processor, which is very fast and efficient. The phone also has 8GB of RAM.
The Google Pixel 7a is a mid-range smartphone that offers a lot of value for its price. It features an excellent camera, a quick processor, and a powerful battery. Along with many other helpful features, the Pixel 7a has Google Assistant and VPN by Google One.
The Pixel 7a's camera is one of its best features. In addition to a 13MP ultrawide sensor, the phone has a 64MP main sensor. Both sensors produce excellent images in low light. Additional helpful camera features on the Pixel 7a include Night Sight, Portrait Mode, and Live HDR+.
"The Google Pixel 7a is a worthy upgrade for Pixel fans, offering a great camera, a fast processor, and a long-lasting battery."
The Google Tensor G2 processor powers the Pixel 7a. The Pixel 7a feels very responsive thanks to this processor's high speed and efficiency. Additionally, the phone has 8GB of RAM, ensuring that multitasking won't be a problem.
The Pixel 7a has a 5000mAh battery, which is very large for a mid-range phone. The phone easily gets me through a full day of use, even with heavy use. The Pixel 7a also supports fast charging, so you can quickly top up the battery when you need to.
Many helpful features, including Google Assistant and VPN by Google One, are included with the Pixel 7a. Setting alarms, playing music, and getting directions are just a few of the many tasks that Google Assistant can assist you with. A virtual private network, or VPN, like Google One encrypts your internet traffic so you can browse the internet safely.
Overall, the Google Pixel 7a is a great mid-range smartphone. It has a great camera, a fast processor, a long-lasting battery, and a number of useful features. If you're looking for a great value for your money, the Pixel 7a is a great option.
Adobe Announces New Generative AI Features in Photoshop
Adobe has integrated its powerful generative AI models, collectively known as Firefly, directly into its industry-leading software, Photoshop.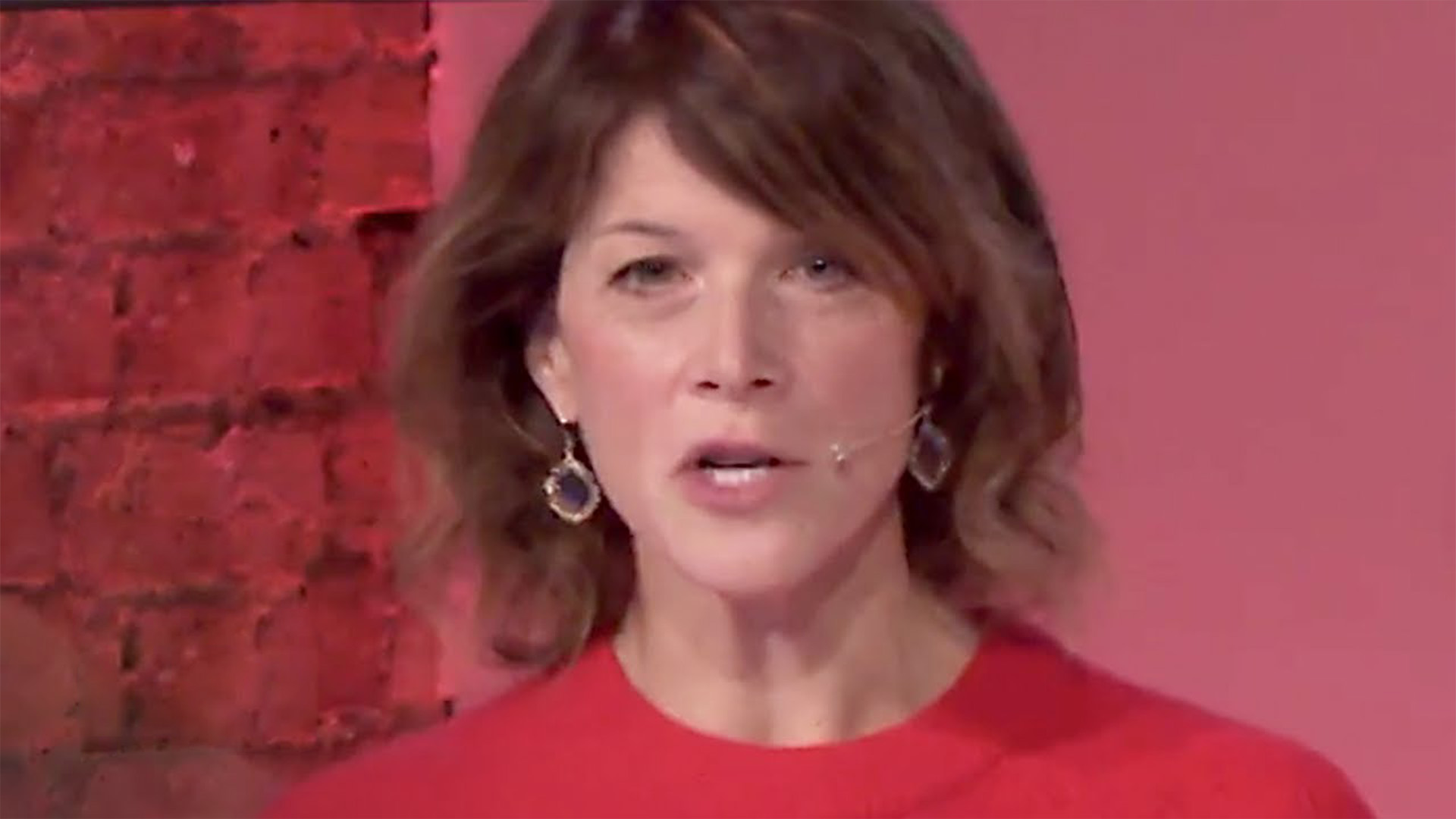 Adobe has directly incorporated Firefly, a group of highly effective generative AI models, into Photoshop, one of the top products in its category. This integration aims to usher in a new era of creativity for users by fusing the speed and ease of generative AI with the accuracy and power of Photoshop.
In order to give users a creative co-pilot to speed up ideation, exploration, and production, Adobe is starting a major initiative to integrate generative AI into current creative workflows across its Creative Cloud suite.
Just six weeks ago, Adobe's family of innovative generative AI models, Firefly, made its debut. At first, it concentrated on creating text and image effects. Since then, with users producing over 100 million assets, it has seen unmatched success and grown to become one of Adobe's most successful beta launches to date.
Vector recoloring and generative fill are now supported by Firefly's increased functionality. Adobe makes sure that Firefly develops into a necessary tool for producing commercially viable, professional-quality content by directly integrating it into creators' workflows.
"By integrating Firefly directly into workflows as a creative co-pilot, Adobe is accelerating ideation, exploration, and production for all of our customers," said Ashley Still, senior vice president, Digital Media at Adobe.
"Adobe Photoshop Takes AI to the Next Level with New Generative Features"
Generative Fill, a tool that automatically matches perspective, lighting, and style of images to produce remarkable results while minimising tedious tasks, is one of the standout features of this integration. Generative Fill increases productivity and broadens creative expression, giving creators a newfound sense of assurance.
Redefining creativity and design
Firefly is trained on the hundreds of millions of professional-grade, licenced, high-resolution images in Adobe Stock. This helps to ensure that Firefly won't produce content based on the intellectual property (IP) of other people or brands. Firefly is designed to generate images that are safe for commercial use.
Amazing effects can be produced by extending, removing, or adding content to images.
Create newly generated content in generative layers so you can quickly iterate through a wide range of creative possibilities and undo the effects whenever you like, all without changing the appearance of your starting point.
Try out novel concepts, brainstorm countless variations of high-quality content, and produce it as quickly as you can.
For users interested in testing the new features on the web, Generative Fill is also available as a new module in the Firefly beta.
Adobe reaffirms its position as the market leader by offering creators with cutting-edge tools that push the boundaries of what is possible in the field of digital art and design with Firefly and the most recent updates to Photoshop.
Windows 11 Gets a Productivity Boost with AI Features
Microsoft today announced a number of new AI features for Windows 11, designed to make the platform more productive and engaging for users.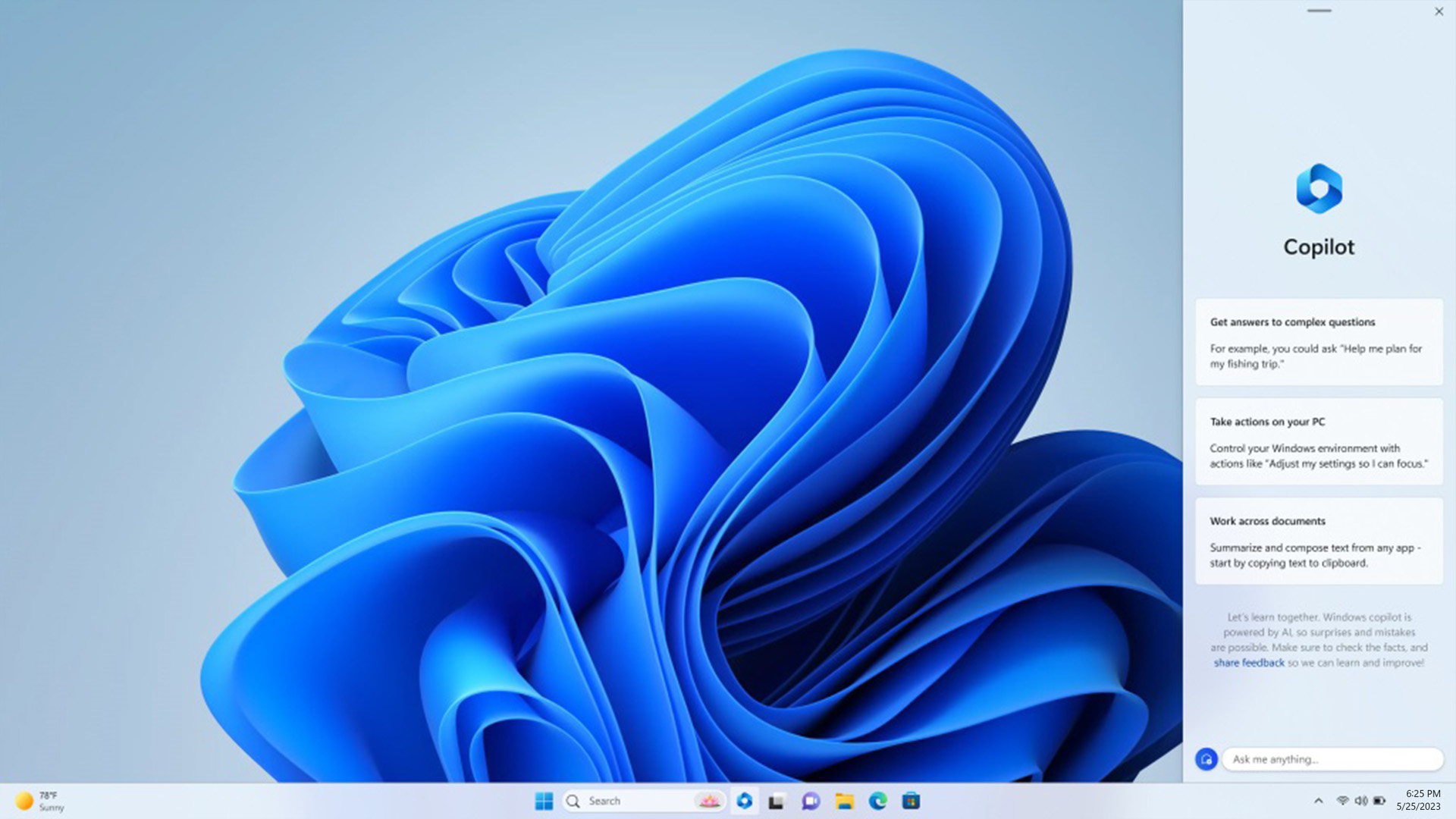 Microsoft today unveiled a number of new AI features for Windows 11 that are intended to increase user productivity and engagement.
The launch of Windows Copilot, a new AI assistant that can assist users with a range of tasks, from writing emails to editing documents, is one of the most important announcements.
Windows Copilot makes suggestions and offers help by using machine learning to comprehend what users are attempting to do. Windows Copilot, for instance, can suggest words, phrases, or even complete sentences when a user is writing an email.
Windows Copilot, making Windows 11 the first PC platform to announce centralized AI assistance to help people easily take action and get things done.
Windows is the first PC platform to offer centralised AI assistance. With Bing Chat and first- and third-party plugins, you can focus on ideas, complex projects, and collaboration instead of finding, launching, and working across multiple apps.
Windows Copilot will start to become available in preview for Windows 11 in June.
"Microsoft Brings the Power of AI to Windows 11 with Windows Copilot and Dev Home"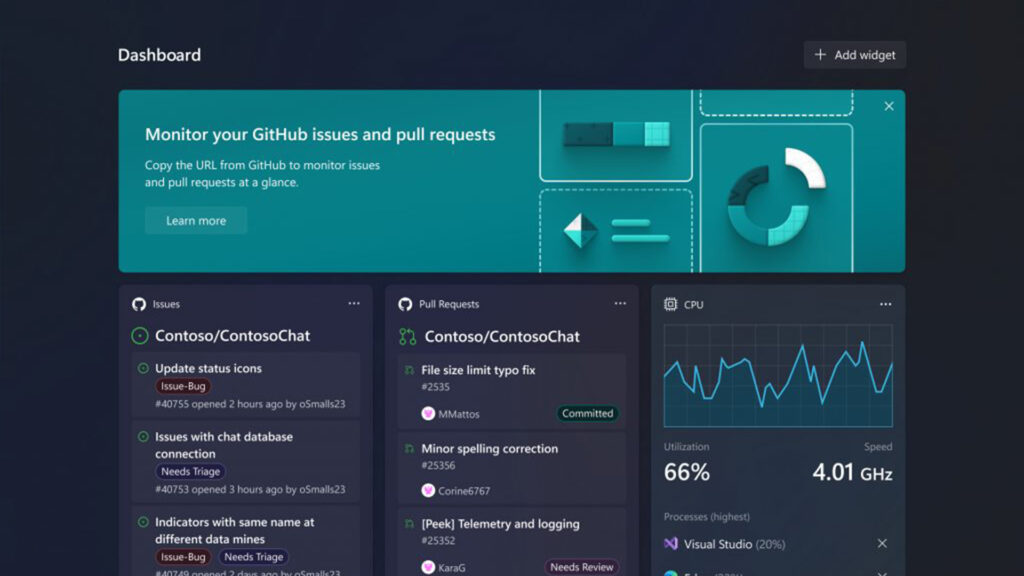 Dev Home: The Future of Development on Windows
Dev Home, a preview experience in Windows 11, gets you back in the zone and streamlines your workflow with features like WinGet configuration for faster setup, Dev Drive for improved filesystem performance, and a new customizable dashboard to track all your workflows and tasks.
Dev Home installs the tools and packages you need to connect to GitHub and code for your repos. Microsoft Dev Box and GitHub Codespaces allow Dev Home to configure cloud coding environments. Developer-designed Dev Home is your ultimate productivity companion so you can focus on what you do best.
WinGet configuration makes coding easy. This unattended, reliable, and repeatable mechanism eliminates the manual work of setting up a new machine or project and the stress of finding the right software, packages, tools, and frameworks to download or settings to apply.
Microsoft Store
The Microsoft Store is also getting some upgrades from Microsoft, including the addition of new AI-powered features. For instance, users will find it simpler to find apps that are relevant to their interests thanks to the Store's new ability to generate keywords for apps.
Users will find it simpler to quickly scan reviews and choose whether or not to download an app thanks to the Store's ability to generate review summaries.
New features and experiences in the Microsoft Store
Microsoft Store AI Hub
Microsoft Store AI-Generated keywords
AI-Generated review summary
Microsoft Store Ads
Backup and Restore Apps
WhatsApp Users Can Now Correct Mistakes in Sent Messages
WhatsApp, the popular messaging app, has rolled out a number of new features in recent weeks to enhance privacy and security for its users.
The popular messaging app WhatsApp has released a number of new features in recent weeks to improve user privacy and security.
Editing messages is one of the most important new features. Before, you had to delete the message and send it again if you made a mistake. You can now easily edit the message. This is a fantastic way to fix errors or include more details.
Chats can now be locked, which is another new feature. This enables you to use a password or biometric authentication to protect your most private conversations. This is a fantastic method for hiding your conversations from prying eyes.
Additionally, WhatsApp has made it simpler to maintain account security. You can now activate two-factor authentication, which requires you to log in with both your password and a code from your phone. This increases the security of your account further.
These are just a few of the recent updates that WhatsApp has released. These features demonstrate WhatsApp's dedication to giving its users the highest level of privacy and security.
"WhatsApp's new edit feature is a welcome addition for users who often make mistakes"
WhatsApp made an announcement about the update on Twitter. The tweet was captioned "IT'S HERE!! Message Editing is rolling out now. You now get up to 15 minutes after sending a message to edit it. So you don't have to worry if you duck it up."
WhatsApp Rolls Out New Features to Enhance Privacy and Security
You can edit messages for up to 15 minutes after they're sent. To edit a message, long-press on it and select the "Edit" option from the menu.
You can lock chats with a password or biometric authentication. To lock a chat, go to the chat and tap the three dots in the top right corner. Then, select "Lock chat."
Two-factor authentication requires you to enter a code from your phone in addition to your password when you log in. To enable two-factor authentication, go to "Settings" > "Account" > "Two-step verification."
These new features are a great way to protect your privacy and security on WhatsApp. If you're not already using them, I encourage you to give them a try.